We Are The Stories We Tell
We are storytelling creatures. It's a common way we structure our everyday experiences and understand the world. So, it's no surprise that story structure is at the heart of virtually everything we do, including run successful businesses.
What's not so obvious, though, is that we are the stories we tell ourselves. So, if you're not clear on what your business narrative is, you could be leaving money on the table without even realizing it.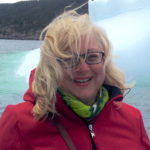 I'm Elizabeth Johnston, and I help entrepreneurs and business owners tell their story. I'll show you how to get to the heart of your business narrative so you can attract your ideal clients.
But first, I want to share with you something I've noticed in the business world, and it's this: Dedicated entrepreneurs like yourself are working all hours available to build a life of freedom but they aren't clear on what makes them stand out from all the rest.
WITHOUT THE RIGHT STORY, YOU'RE SUNK
That's like wanting to fly to your favourite destination but forgetting to get on the plane. You need the right vehicle (i.e. the right story) to bridge the gap between you and your ideal customer.
Over the years, I've talked to hundreds of business owners and the majority of them suffer from story confusion. Of course, they all have a story to tell about how they started their business, why they stay in it, and who their ideal client is.
However, they aren't always as clear on these stories as they could be, and that's hurting their bottom line.
In today's economy where competition comes from brick & mortar plus online businesses, it's more important than ever to get clear on what makes your business different.
And that's where I come into the picture. With over 20 years of writing, teaching and consulting experience, I am uniquely positioned to help you master the secrets of story structure so that you attract the clients you were born to serve.
HOW I HELP YOU
get clarity on your unique business story
understand who you were meant to serve
how to make your client the hero of your story
speak the language your client understands
And that's just for starters!
WHAT GETS ME UP IN THE MORNING
One of my favourite things to talk about is story structure. Anyone who has taken a seminar of mine or worked with me one-on-one knows how passionate I am about storytelling and creativity. it's the thing that puts a spring in my step.
But not so long ago, I was on the verge of burnout at work, and the antidote for me was getting back to my creativity by telling stories, in one form or another.
I've seen it in my colleagues, too. They get so lost in the day-to-day details of running their business or working for their bosses that they forget how vital creativity is to their well-being.
MY MISSION
I believe that story isn't just something you incorporate into your business messaging to make money. That's important, but the real reason to tell your story is because it's where the  soul of your business lies. Without connecting to your story, you can't help others.
It's that old adage: Put your oxygen mask on first before you try to help anyone else. Otherwise, you're dead in the water.
Getting clear on your business story is getting clear on your mission here on earth. It's how you get to help more people with your unique gifts, strengths and talents.
If you're still reading, then what I'm saying is resonating with you. I hope you'll join me on this journey.